It was a busy week-end in Vordemwald, a little village close to Rothrist, Switzerland. Like a week ago, it was the Swiss Cup and Swiss Championship the same day, but this time in the 26 inch category. During saturday, I took part in the Swiss Cup the afternoon in the Swiss Championship in the evening.
12:45: start for the Swiss Cup. The sections look nice with granite rocks, logs, beams, concrete tubes and metal reels. Among these obstacles, there is some powerful parts with big gaps and heights but also some really interesting parts with balance and precision on narrow beams. Directly into the competition, I feel good on the "big" bike (with which it took me few days to adapt) and I ended the first lap with 3 points, the second one with 2 and I cleaned the last one. After this nice and tight competition, I took the second place behind Lucien Leiser who took only 3 points. Loris Braun is third with 13 points.
20:00. It's time to ride the Swiss Championship. The sections are bigger and demanding. On the same obstacles, the sections are different and impressive but I feel good and ready to face anything.
The first section went OK, the second perfect and I fail on the third one when putting a foot down on an almost-impossible-move. I did a truly great fourth section with 0 points and I took a bad five on the last one, loosing balance on a high and tiny part.
I started the same with the second lap but this time I succeed in the third section with one point only. The fourth section went OK but I did another mistake on the last one – pretty stupid this time – going above an arrow with the front wheel.
With three failures during this Swiss Championship, it's impossible to pretend a good fight for the victory. Despite my good shape and a great attitude – that I'm really happy with – I had to content myself with the third place, 5 points behind Loris Braun. This second place was accessible but with this amount of 5, it's not easy to come back. But I'm feeling confident, it's only a matter of time.
I've planned an easy next week with light and progressive physical training. I feel quite exhausted after the intense training I've follow to prepare the international and national championships in this early season. Just perfect to take time to work the mental training.
I'll will be off to the BIU European Cup in Valgoglio, Italy, next week-end. A competition that I'm going to compete relaxed with Loris Braun, Lucien Leiser and Yohan Buchwalder. Looking forward to it.
Nice second place at the Swiss Cup, really close to the first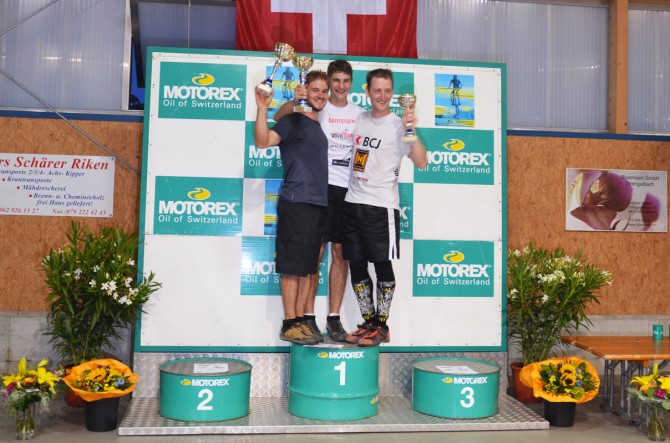 Full focus on balance

To the top of this really big metal reel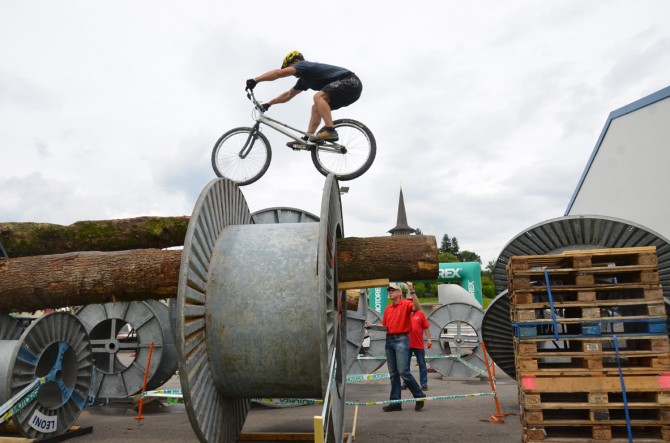 Power !

Impressive view from the top